Evolve Stoke
Innovative akkubetriebene Fortbewegungsmittel und LifeStyle-Produkte für den urbanen Raum wie die elektrischen Skateboards und Longboards von Evolve sind in unserem Onlineshop erhältlich und Sie können diese perfekten elektrische Fortbewegungsmittel für alle Boarder und Skater in Österreich ausschließlich bei uns im FunShop Wien Testgelände nach Terminvereinbarung probefahren und natürlich auch kaufen.
Wenn sie nach einem stärkeren elektrischen Skateboard als von Boosted, Yuneec, Mellow, Inboard und Acton Blink suchen, für das sie in Europa auch noch ein wesentlich besseres Service erhalten, dann sind sie bei Evolve genau richtig.
Das australische Ehepaar Jeff und Fleur Anning hat sich vor über 10 Jahren ein Ziel gesetzt nachdem Jeff nicht in der Lage war nur ein einziges qualitativ hochwertiges elektrisches Skateboard oder Longboard am Markt zu finden, das seinen Ansprüchen genügt hätte. Entweder waren die Boards viel zu schwer, die Akkus zu klein, die Motore zu schwach, die Decks zu instabil und die Qualität der einzelnen Bauteile einfach viel zu minderwertig. So entstand schnell der Entschluss für sich selber ein besseres, schnelleres, hochqualitativeres und stabileres elektrisches Longboard zu entwickeln. Die Firma Evolve war geboren und damit vermutlich die besten elektrischen Skateboards und Longboards am Markt.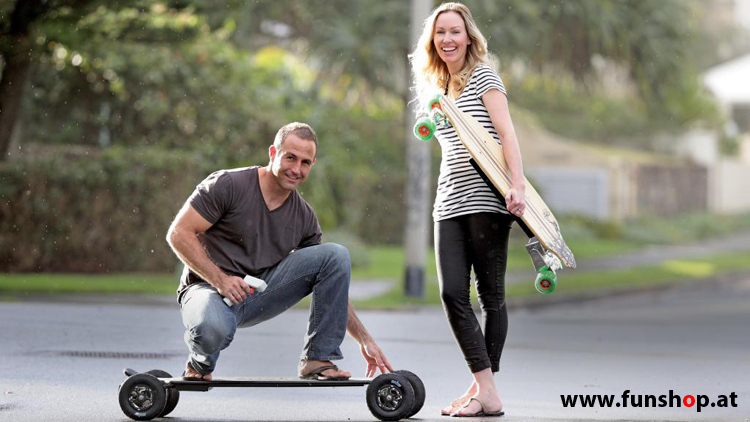 Angeboten wird das elektrische Evolve Skateboard in der Variante Stoke ausgestattet mit einem Holzdeck mit hervorragendem Flex.
Hier geht es zum Evolve Onlineshop!
Hier zu den Evolve Ersatzteilen und dem Zubehör!
Im FunShop bieten wir derzeit die hochwertigsten elektrischen Skateboards von Evolve wie das neue Stoke: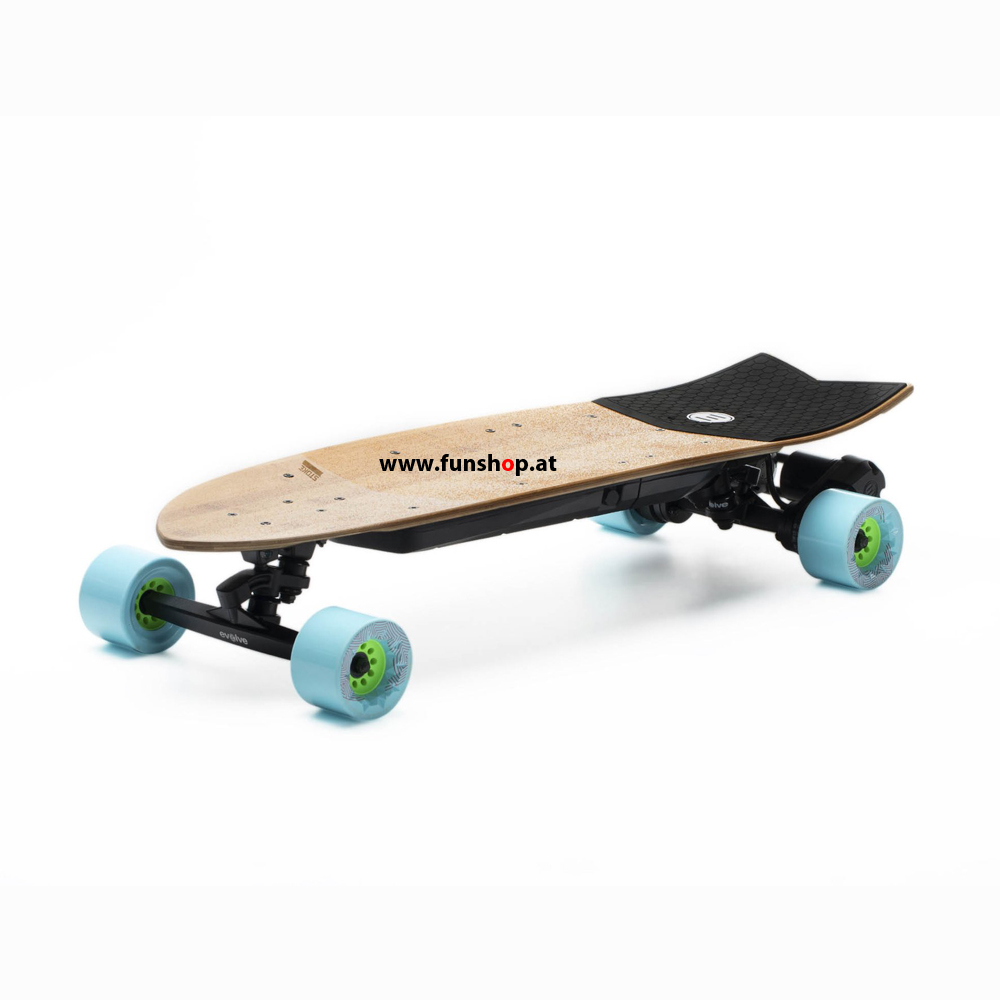 Das Evolve Stoke mit blauen Rolen im FunShop Onlineshop.

Das Evolve Stoke mit orangen Rollen im FunShop Onlineshop.
Übersicht über das komplette Evolve Zubehör im FunShop Wien:
Evolve Stoke R2 Fernbedienung
Evolve Bash Guard Kit
Evolve Sling Bag
Evolve Sonnenbrille
Evolve Helm
This surf inspired swallow tail cruiser is a pocket-rocket sized slasher you can take to the corner store, campus, workplace or if you just want to get out of the house for some good old fashion cruising and carving, it really is the perfect last mile vehicle!
The Stoke board is our smallest most portable skateboard in the Evolve Skateboards line-up made from ECO friendly bamboo and fiberglass construction and setup with the Evolve Super-carve truck and Orangatang Caguama wheels which allows you to throw down carves like you have never done before!
The deck also has the added bonus of a surf inspired EVA foam pad for the back foot and a rear kick-tail which is capable of popping off small curbs and lips that you encounter on your daily ride.  Our GTR 3000 watt dual motor power coupled with the latest lithium and Bluetooth technology will have you surfing the side walk ALL DAY LONG!
What's in the box?
Evolve Stoke
Evolve Carry Case containing – R2 BT remote, Fast charger, Y-Tool, Spare screws
Manual and sticker pack

SPECS:
DECK MATERIAL: 4 Ply Bamboo / 2-Ply Fiber glass, clear grip with EVA tailpad
DECK LENGTH: 33.5 Inches / 850 mm
WHEEL BASE: 24 Inches / 610mm
TRUCKS: Forged / CNC Super carve 306mm/12inch width
WHEELS: Orangatang Caguamas 85mm – 80a Orange, 83a Purple & 77a Blue Happy Thane Formula
NOTE :  Using wheels larger than 85mm may result in wheel bite when riding (wheel touches deck on tight turns).
MOTOR: Dual 1500 watt (3000 watt total) high performance custom made brushless out-runner motors
BEARINGS: Evolve Ceramic Precision Bearings
BATTERY:  4.2AH Sony VTC4 Lithium Ion with Custom BMS.  Travel Friendly 151.2 Watt hours
RECHARGE:  1.5-2hrs with the standard fast charger
REMOTE: Patent pending R-2 Remote, Bluetooth control, instant trigger response, super smooth control
WEIGHT:  8.16kg/17.9 LBS
RANGE: Up to 15km/10 miles
TOP SPEED: Approx 36km/h or 22mph. Speed will reduce as voltage decreases.
MAX LOAD: 100 kg / 220 lbs
SUITABLE TERRAIN: Smooth bitumen roads/footpaths/concrete
SLIDES: Yes
HILLS: Up to 30% gradient in GTR mode (insanely STEEP!)
BRAKING: Ultra smooth stepless braking control with regenerative recharging
AESTHETICS: Surfy fun meets high tech vibe
FAQs
Q:  Can I use wheels larger than Orangatang Caguamas 85mm on the Stoke board?
A:  No.  Using wheels larger than 85mm in Diameter may result in wheel bite on tighter turns.  Although the super carve truck can fit a variety of wheel options, we advise it's best to avoid any kind of wheel bite.
Q:  Can I use a larger battery on the Stoke deck?
A:  No, the Stoke deck can only fit the smaller size battery option we offer however taking a spare travel battery in a backpack will allow for longer rides!
Q:  Can I take my Stoke board on a plane?
A:  Yes.  To do this you must remove the battery first and inform the airline during check-in that you have a battery with you that is 151 watt hours, this can then be stored with your carry-on  luggage and the skateboard with your checked-in luggage.  If unsure, it's best to contact the airline you intend to travel with prior to check-in.
Q:  Can I remove the rear Bash Guard from my Stoke board?
A:  Yes, the Bash Guard is an accessory item and can be removed or replaced as per your requirements.
Q:  Will the Explore by Evolve APP work with my Stoke board?
A:  Yes. The Stoke shares the same internal components as the GTR so you can customise your speed mode if you choose.
Q:  Can I use my GTR remote or charger on my Stoke board and visa versa?
A:  Yes, the remote and charger used on the GTR and Stoke boards are exactly the same and cross compatible.
Q:  Can I drop of gutters and lips on the Stoke board?
A:  Yes this is possible with the Stoke's kick-tail and the motors being protected by the Bash guards.  When performing this manoeuvre we advise that you should be careful not to fall off and always stay within your skill level.
Q:  Will the Bash guards protect the motors on my Stoke board?
A:  Yes.  The bash guards are designed to protect the motors and to cop a beating.  If they are getting scratched, then they are doing their job! You can purchase replacement bash guards if needed.
As Austrias Evolve dealer we offer also a lot of original Evolve spare parts and accessories.
Here is the link to our Evolve online shop.
Here is the link to our Evolve spare parts and accessories available at FunShop Vienna.