Beschreibung
Innovative akkubetriebene Fortbewegungsmittel und LifeStyle-Produkte für den urbanen Raum wie das neue Evolve Stoke gibt es natürlich im FunShop Wien.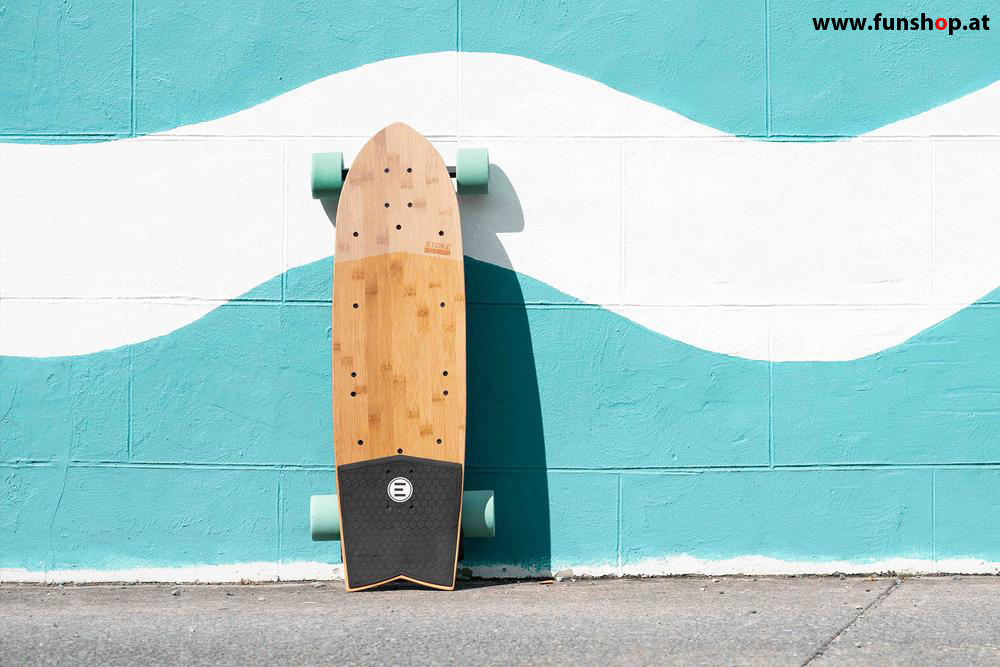 Evolve hat unsere Bitten erhört und bietet mit dem neuen Evolve Stoke nun nicht nur elektrische Longboards aus der GTR Serie an, sondern auch eine kleinere elektrische Variante als Skateboard. Wobei der kleine Bruder vieles aus der bekannten hochqualitativen und leistungsstarken GTR-Serie mitbringt. Sowohl die Motore, die Elektronik und der Aufbau entsprechen dem großen Bruder aus der Bamboo Serie.
Abgespeckt wurde bei Größe, Gewicht und bewusst auch beim Akku. Ist es doch mittlerweile nahezu unmöglich mit einem Evolve Board per Flugzeug zu verreisen, soll der 151,2 Wh Akku des Stoke dies wieder ermöglich. Bitte aber unbedingt vorher mit der Fluggesellschaft abklären ob das Board bzw. der Akku mitgenommen werden darf!
Aus sicherheitstechnischen Gründen empfehlen wir beim Fahren mit dem Evolve Stoke einen hochqualitativen Helm von Thousand Helm zu tragen.
Elektrische Skateboards von Evolve entsprechen nicht der österreichischen Straßenverkehrsordnung und dürfen deshalb nur im privaten Bereich verwendet werden.
Technische Daten des Evolve Stoke:
Gewicht: 8,16 kg
Länge: 85 cm / 33,5 inches
Wheelbase: 61 cm / 24 inches
Rollen: Orangatang Caguamas 85 mm (wahlweise 77a happy blue / 80a orange / 83a purple)
Trucks: Black GT Super carver 306 mm / 12 inches
Lager: Evolve Keramik Lager
Max. Zuladung (Körpergewicht) : 100 kg
Höchstgeschwindigkeit: 36 km/h *
Reichweite: bis 15 km *
Max. Steigfähigkeit: 30 %
Batterie: Hochqualitativer Li-Ion Akku 36 V, 4 Ah, 144 Wh
Leistung: 2*1.500 Watt
Ladezeit: ca. 1-2 Stunden
Ladegerät/Netzteil: 100-240VAC
*abhängig von Geschwindigkeit, Gewicht, Bodenverhältnissen und weiteren Umgebungsfaktoren!
Lieferumfang Evolve Stoke:
1 Evolve Stoke wahlweise mit Rollen in blau, orange oder lila
1 Ladegerät 100 – 240 VAC
1 Netzkabel
1 Fernbedienung R2 mit LCD Display
1 Bedienungsanleitung
Zubehör Evolve Stoke:
Bash Guard Kit
Thousand Helm by Evolve
Introducing the Stoke board:
This surf inspired swallow tail cruiser is a pocket-rocket sized slasher you can take to the corner store, campus, workplace or if you just want to get out of the house for some good old fashion cruising and carving, it really is the perfect last mile vehicle!
The Stoke board is our smallest most portable skateboard in the Evolve Skateboards line-up made from ECO friendly bamboo and fiberglass construction and setup with the Evolve Super-carve truck and Orangatang Caguama wheels which allows you to throw down carves like you have never done before!
The deck also has the added bonus of a surf inspired EVA foam pad for the back foot and a rear kick-tail which is capable of popping off small curbs and lips that you encounter on your daily ride.  Our GTR 3000 watt dual motor power coupled with the latest lithium and Bluetooth technology will have you surfing the side walk.
Specifications of the Evolve Stoke:
DECK MATERIAL: 4 Ply Bamboo / 2-Ply Fiber glass, clear grip with EVA tailpad
DECK LENGTH: 33.5 Inches / 850 mm
WHEEL BASE: 24 Inches / 610mm
TRUCKS: Forged / CNC Super carve 306mm/12inch width
WHEELS: Orangatang Caguamas 85mm – 80a Orange, 83a Purple & 77a Blue Happy Thane Formula
NOTE :  Using wheels larger than 85mm may result in wheel bite when riding (wheel touches deck on tight turns).
MOTOR: Dual 1500 watt (3000 watt total) high performance custom made brushless out-runner motors
BEARINGS: Evolve Ceramic Precision Bearings
BATTERY:  4.2AH Sony VTC4 Lithium Ion with Custom BMS.  Travel Friendly 151.2 Watt hours
RECHARGE:  1.5-2hrs with the standard fast charger
REMOTE: Patent pending R-2 Remote, Bluetooth control, instant trigger response, super smooth control
WEIGHT:  8.16kg/17.9 LBS
RANGE: Up to 15km/10 miles
TOP SPEED: Approx 36km/h or 22mph. Speed will reduce as voltage decreases.
MAX LOAD: 100 kg / 220 lbs
SUITABLE TERRAIN: Smooth bitumen roads/footpaths/concrete
SLIDES: Yes
HILLS: Up to 30% gradient in GTR mode (insanely STEEP!)
BRAKING: Ultra smooth stepless braking control with regenerative recharging
AESTHETICS: Surfy fun meets high tech vibe
FAQs
Q:  Can I use wheels larger than Orangatang Caguamas 85mm on the Stoke board?
A:  No.  Using wheels larger than 85mm in Diameter may result in wheel bite on tighter turns.  Although the super carve truck can fit a variety of wheel options, we advise it's best to avoid any kind of wheel bite.
Q:  Can I use a larger battery on the Stoke deck?
A:  No, the Stoke deck can only fit the smaller size battery option we offer however taking a spare travel battery in a backpack will allow for longer rides!
Q:  Can I take my Stoke board on a plane?
A:  Yes.  To do this you must remove the battery first and inform the airline during check-in that you have a battery with you that is 151 watt hours, this can then be stored with your carry-on  luggage and the skateboard with your checked-in luggage.  If unsure, it's best to contact the airline you intend to travel with prior to check-in.
Q:  Can I remove the rear Bash Guard from my Stoke board?
A:  Yes, the Bash Guard is an accessory item and can be removed or replaced as per your requirements.
Q:  Will the Explore by Evolve APP work with my Stoke board?
A:  Yes. The Stoke shares the same internal components as the GTR so you can customise your speed mode if you choose.
Q:  Can I use my GTR remote or charger on my Stoke board and visa versa?
A:  Yes, the remote and charger used on the GTR and Stoke boards are exactly the same and cross compatible.
Q:  Can I drop of gutters and lips on the Stoke board?
A:  Yes this is possible with the Stoke's kick-tail and the motors being protected by the Bash guards.  When performing this manoeuvre we advise that you should be careful not to fall off and always stay within your skill level.
Q:  Will the Bash guards protect the motors on my Stoke board?
A:  Yes.  The bash guards are designed to protect the motors and to cop a beating.  If they are getting scratched, then they are doing their job! You can purchase replacement bash guards if needed.
WARNING: The Evolve Stoke is a high performance electric skateboard. It is strongly advised that children under 14 years, or new to electric skateboarding, operate the boards under supervision with full safety gear including a helmet. FAST and GT mode offers performance capabilities not suitable for beginners and can allow the rider to get in situations that may increase risk in operation. ie: GT mode will allow the board to climb extremely steep hills that will be dangerous to ride back down, even when using the brake. While programming is in place to limit climbing of dangerous inclines, the rider must understand the power this board can offer must be respected for safe use.
Veröffentlicht am 30.9.2019