Beschreibung
Innovative akkubetriebene Fortbewegungsmittel und LifeStyle-Produkte für den urbanen Raum wie das neue Evolve GT Carbon Street Elektro-Skateboard sind in unserem Onlineshop erhältlich und Sie können dieses Longboard natürlich auch bei uns im FunShop Wien testen und kaufen.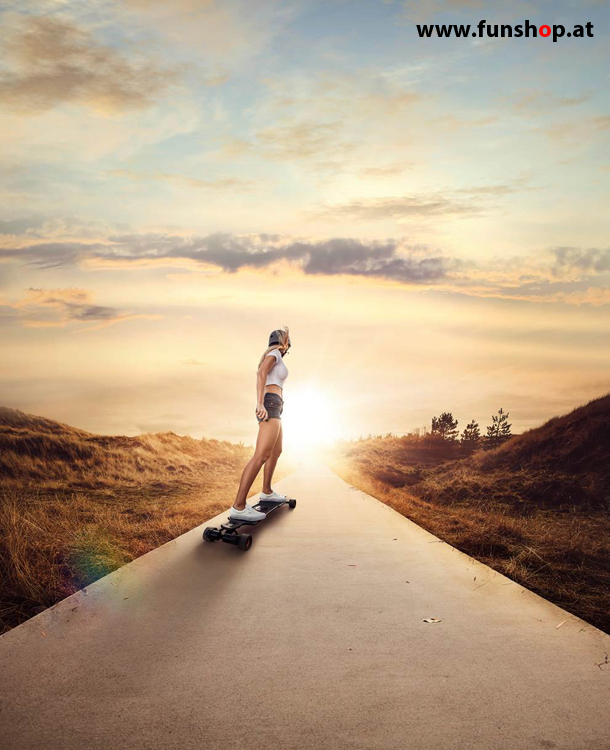 Evolve Elektro Skateboards werden in den letzten 5 Jahren aus purer Leidenschaft entwickelt, um das einzigartige Surf- und Snowboardfeeling auch jederzeit an Land erleben zu können. Die Basis ist ein High-Quality Longboard, das mit einem Elektroantrieb gepimpt wird. Das Ergebnis ist ein Premium Elektro Longboard, ein Carving Instrument, das neue Maßstäbe in Qualität, Reichweite, Leichtigkeit und Fahrspaß setzt.
Die neuen Evolve GT Elektroskateboards sind die Formel 1 Boards auf dem E-Board Markt. Die Power ist unfassbar, nochmal gefühlt 2,5 mal stärker als alle bisherigen Boards.
Die Reichweite der Evolve Boards ist um ein Vielfaches höher als bei anderen Boards. Das Carbon GT Street erreicht eine Reichweite von 50 km, getestet von einem erwachsenen Fahrer mit 75 kg bei mittlerer Geschwindigkeit und Streetbereifung.
Die Evolve Street Boards sind unter 8kg leicht und haben trotzdem eine riesige Reichweite.
Die Evolve Boards sind die ersten 2in1 Boards. Man kann sie in 5 Minuten vom Street in ein All-Terrain Board umbauen und hat so das Beste von beiden Welten vereint in einem Board.
Aus sicherheitstechnischen Gründen empfehlen wir beim Fahren mit dem Evolve Elektroskateboard GT Carbon Street einen Helm wie z.B. den POC Crane Commuter zu tragen!
Dieses Produkt entspricht nicht der österreichischen Straßenverkehrsordnung und darf deshalb nur im privaten Bereich verwendet werden!
Technische Daten:
Gewicht: 7,9 kg
Länge: 102 cm / 40 inches
Wheelbase: 81 cm / 33,5 inches
Reifen: Black Evolve GT 83 mm 76A
Trucks: Black GT Super carver 306 mm / 12 inches
Bearings: Abec 9 Evolve Speedballs precision bearings
Max. Zuladung (Körpergewicht) : 100 kg
Höchstgeschwindigkeit: 40 km/h *
Reichweite: bis 50 km *
Max. Steigfähigkeit: 25 %
Batterie: Hochqualitativer Li-Ion Akku 42 V, 10 Ah
Leistung: 3.000 Watt
Ladezeit: ca. 4-5 Stunden
Ladegerät/Netzteil: 100-240VAC
*abhängig von Geschwindigkeit, Gewicht, Bodenverhältnissen und weiteren Umgebungsfaktoren!
Lieferumfang:
1 Evolve GT Carbon Street
1 Ladegerät 100 – 240 VAC
1 Netzkabel
1 Neue Fernbedienung R2 mit LCD Display
1 Bedienungsanleitung
Übersicht über das komplette Evolve Zubehör im FunShop Wien:
Evolve GT Fernbedienung
Evolve Fernbedienung R2
Evolve Rucksack BackPack V2
Evolve Sling Bag
Evolve Board Cover
Evolve Schnellladegerät
Evolve Nose Guard
Evolve Tasmanian Tiger Bag
Evolve GT All-Terrain Conversion Kit
Evolve GT Street Conversion Kit
Anleitungsvideo wie man beim Evolve GT Carbon die Straßenräder schnell und einfach auf die All-Terrain Räder umbaut.
GT is synonymous with performance. Channeling the F1 inspired styling of the original Evolve Carbon Street, the GT continues to raise the bar in the legacy of the hugely popular Evolve Carbon Series.
We took an already razor sharp carving weapon, and made it even sharper.  The beautifully designed GT Carbon Fiber deck with built in electrics has a precise low profile look and feel, allowing fantastic control and stability when riding.  With an unrivaled 50km range, corners will turn into apexes, open stretches into runways, and wide open paths will make your list of favourite powder runs. The twin sensored brushless motors combine to push 3000w of power to the ground through Evolves all new GT Series wheel – an 83mm hybrid of all that is good in our favourite skate wheels; grip, softness and durability.
The Evolve GT Street offers more riding modes than ever before allowing all levels of rider to enjoy the product safely with the added ability to adjust your mode while riding to suit conditions and maximize efficiency.  Use "SLOW" mode for easy control and a safe top speed, perfect for beginners and first time users.  Once you get the hang of things switch to "ECO" mode for a relaxed ride and unparalleled range.  Try "FAST" mode to whizz past traffic and turn your commute into your daily adrenaline rush hour, and if you dare, switch to "GT" mode to unleash the insane power and acceleration with the ability to climb hills of up to 25% gradient!
To top it all off, you can see this performance in real-time with an industry first from Evolve Skateboards: The all new Evolve GT Series Remote.  It gives you instantaneous feedback on your speed, battery level, range and mode selected with a built in screen, right from the palm of your hand!
The GT street is an insanely awesome carving machine and the king of electric skateboards!
Power – Performance – Versatility
Specifications:
– Deck material: High-grade Custom Moulded Carbon Fiber & Kevlar.
– Deck length: 102cm/40 inches.
– Deck wheelbase: 81cm/33.5inches.
– Trucks: Black GT Super carve 306mm/12inch width.
– Wheels: Black Evolve GT 83mm 76A for the GT street board.  Also compatible with Loaded Longboard 80mm Kegels and Abec 11 flywheels (83mm, 90mm and 97mm) and Evolve 7" All terrain wheels for the All Terrain GT board.
– Motors: 3000 watt high performance custom made sensored dual brush out-runner motors.
– Bearings: Abec 9 Evolve Speedballs precision bearings.
– Battery: Lithium ion battery 42v, 10Ah with custom BMS.
– Recharge: 4-5 hours with standard charger (Optional fast charger 3hrs).
– Weight: 7.9kg/17lbs Street GT.
– Range: Up to 50km/31miles on the Street GT, varies depending on rider weight, terrain and riding style.
– Top Speed: Approx. 36-42km/h, 22-26mph on the street GT depending on wheel and gear size (see speed chart).  This may vary depending on rider weight and Terrain.
– Braking: ABS smooth regenerative braking.  Has the ability to bring you to a complete stop if required.
– Noise: Minimal noise
– Acceleration: Smooth stepless acceleration from slow to top Speed.
– Remote: New R2 digital LCD screen remote with speed indicator, trip function, 4 speed settings, Battery display, wheel and gear settings and diagnosis screen.
– Max Load: 100 kg / 220 lbs.
– Terrain: Smooth and hard surfaces ie tarmac, bitumen, concrete for the Street GT.  Any hard or compact surface ie tarmac, bitumen, concrete, short grass, dirt, uneven and poor terrain surfaces for the All Terrain GT.
– Slides: Yes for the GT street.  No for the AT unless on gravel or grass surfaces.
– Hills: Up to 25% gradient in GT mode (insanely STEEP!).
– Aesthetics: Design focused.  Very high tech look, sound and feel.  Has a distinctive F1 low profile look with built in electrics.
Please see this video guide on how to take the Street wheels off your GT Carbon and put the AT wheels on.
WARNING: The Evolve GT Series is a high performance electric skateboard. It is strongly advised that children under 14 years, or new to electric skateboarding, operate the boards under supervision with full safety gear including a helmet. FAST and GT mode offers performance capabilities not suitable for beginners AND can allow the rider to get in situations that may increase risk in operation. ie: GT mode will allow the board to climb extremely steep hills that will be dangerous to ride back down, even when using the brake. While programming is in place to limit climbing of dangerous inclines, the rider must understand the power this board can offer must be respected for safe use.
Veröffentlicht am 4.3.2017